Home
|
About
|
FAQ
|
Facebook
|
Twitter
|
Blog
|
Forum
|
Shop
|
Contact
|
Join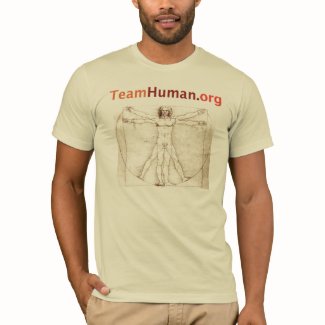 Promote TeamHuman.org by purchasing our one-and-only t-shirt. Wear it and impress your friends! The back of the shirt contains images for each of the main projects (like as shown on the home page).
Clicking on the shirt image on the right will take you to the product page at Zazzle where you can view both sides, customize and place your order securely.
All royalties collected from t-shirt sales will go towards supporting the TeamHuman.org websites and other organizational activities, such as the booth at the 2011 Solano Stroll
---
TeamHuman.org is an independent, not-for-profit entity with no affiliation to any political party, religion, company, or other organization. 501(c)(3) status is pending.
©TeamHuman.org 2005-2012 | Home | About | FAQ | Facebook | Twitter | Blog | Forum | Shop | Contact | Join